Monthly Archives: February 2012
We're pleased, happy, relieved and a litt bit of everything to announce that BEAT SNEAK BANDIT FOR IPHONE, IPOD TOUCH AND IPAD IS NOW AVAILABLE IN THE APP STORE!

RHYTHM. STEALTH. PUZZLE.
When all the clocks in the world are stolen by Duke Clockface and the world is in chaos, it'll be up to the Beat Sneak Bandit to steal them back!
- Rhythmadelic controls: Everything in this game moves rhythmically, just like the simple controls: Tap to the beat to sneak!
- Stealthalicious gameplay: Sneak past patrolling guards, security lights, trapdoors and all the other freaky stuff and contraptions the creepy Duke's got in store for you!
- Puzzletastic levels: Watch, listen and learn the rhythm patterns to figure out how to solve all of the sneaky puzzles!

In all this Beat Sneak Bandit madness it's easy to forget that when we announced Bumpy Road in 2011, we mentioned a Mac version. Whatever happened to that? Well, a lot of stuff happened that made us down prioritize that version, but now it's in the making again.
We won't make any promises yet as to when it will come out, it's hard to juggle all of our projects being only two persons. We do a quite a bit of more stuff than you see – tiny bit of contract work, administrative stuff, prototyping, idea scribbling and bar fighting.
Anyhow! Here's how Bumpy Road looks in all it's 720p glory (click!)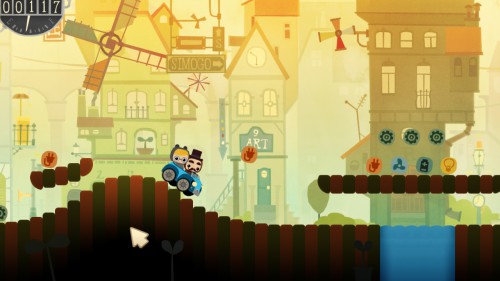 It's controlled with a mouse and it works brilliantly (in fact, all levels in the iOS version are developed, played and tested with a mouse before tested on touch devices) – and you'll be able to choose a range of different cursors! We have another control scheme planned as well, but we have to test it out thoroughly before making a decision if it stays or not. If it works it will be a pretty novel and fun thing!
LADIES & GENTLEMEN
PUT YOUR BADDEST DANCING SHOES ON
DO THE COSMIC SLOP
GET READY TO GET DOWN & PITCH UP WANG DANG DOODLE ALL NIGHT LONG
& TELL YOUR MOMMA
because

BEAT SNEAK BANDIT LAUNCHES ON FEBRUARY 16TH ON IPHONE, IPOD TOUCH AND IPAD!
… and to celebrate this little occasion we made a new trailer: